FirstNet was created by Congress in 2012, following recommendations from the 9/11 commission. FirstNet was given the mission of building, deploying and operating the first high-speed, nationwide wireless broadband network with spectrum dedicated to public safety. In Vermont, the Public Safety Broadband Network Commission (PSBC) was formed by Governor's Executive Order in 2013. The PSBC functions within Radio Technology Services. The Vermont liaison group includes a Single Point of Contact (SPOC) designee and an outreach team. As a national vendor is chosen to actually build and manage the network, the PSBC and RTS based outreach team will play an important advisory and communication role to Vermont's first responders. The original national timeline indicated a private partner would be selected to work with FirstNet in November of 2016. However, the RFP evaluation and related processes are taking longer than expected. FirstNet now hopes to have a private partner selected within the first quarter of 2017.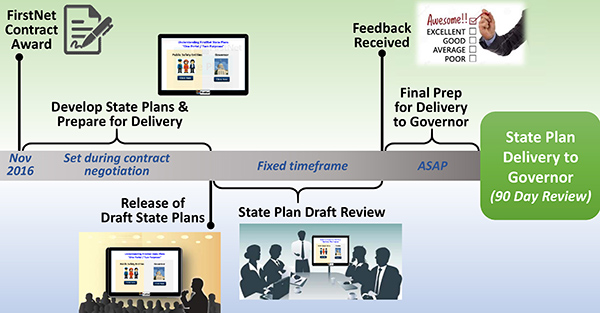 Draft state plans are projected to be distributed to all states within the first six months of 2017. The governors of each state will be simultaneously sent an implementation plan for their state. Once a State receives the state implementation plan, the Governor will have 90 days to either accept the FirstNet proposal (opt-in), allowing FirstNet and its private partner to build the LTE Radio Access Network (RAN) in that state, or elect to pursue an opt-out path. Opt out means a state or territory chooses to build the RAN instead of letting FirstNet and its partner do it.  Regardless of a Governor's decision, no state will be allowed to forego having a FirstNet system operating within its borders. The national network is expected to be substantially in operation nationwide by 2022. FirstNet has produced a tutorial on the opt-in/opt-out process that you may view online.
Major Steps for Vermont include:
The formation of the Public Safety Broadband Network Commission
DPS receipt of a State and Local Implementation Grant Program award for FirstNet support
Execution of a national FirstNet survey to Vermont first responders—securing one of the highest state participation rates in the country of 70%
The design and implementation of state outreach efforts to first responders that encompasses all law enforcement, fire service and Emergency Medical Service personnel
Email us your FirstNet questions!
January 2017 Vermont Update Newsletter