VLETS, the Vermont Law Enforcement Telecommunications System, is Vermont's state law enforcement message switching system. The system serves as the hub for the exchange of restricted-access intrastate and interstate law enforcement and criminal justice information. Through a number of custom interface programs, the VLETS message switch sends queries, receives response messages and routes them to a destination identified by an FBI-assigned agency identifier. An interface to the Vermont Department of Motor Vehicles databases provides driver and vehicle information to law enforcement entities throughout Vermont and the U.S. Other interface programs support:
Information sharing with the FBI's National Crime Information Center (NCIC);
The National Law Enforcement Telecommunications System (Nlets); and
Two statewide CAD/RMS systems used in Vermont - Spillman and Valcour.
Resident on the same hardware platform as VLETS is the Vermont Criminal History Record System and a state database of arrest warrants, restraining orders and arrest photos. The VLETS system has approximately 1,400 active user accounts in Vermont, which can communicate with thousands of law enforcement and criminal justice agencies in the U.S. and Canada. VLETS processes approximately 4 million transactions per month.
Accessing the Information You Need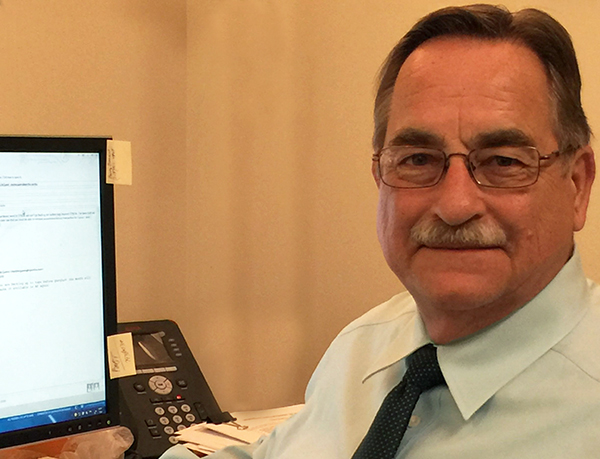 Philip Colby, Technical Project Coordinator
VLETS is the gateway technology for every law enforcement agency in Vermont for accessing criminal justice information. A key interface for this information exchange is the OpenFox® Messenger software. Newly introduced in Vermont in 2016, OpenFox® Messenger is the software interface to the databases that  are accessed through VLETS. 
Requesting Assistance
If you have questions about VLETS or need assistance accessing and transmitting information through the system, please send us an email or give us a call during normal office hours (M-F 7:45 am-4:30 pm) at (802) 241-5446. For emergencies outside of normal business hours, call the Williston PSAP at (802) 878-7111. A Williston dispatcher will contact the on-call person covering VLETS issues. Please note: network problems are a potential cause of VLETS access issues. Since VLETS services and Spillman CAD/RMS use the same network, concurrent outages in both VLETS and Spillman service may indicate there is a network issue. Network issues should be reported to the Department of Public Safety OTM Help Desk.
Updating Technology
Public safety personnel rely on VLETS to access the information they need. We work to keep our systems up-to-date and responsive to our user needs. Major accomplishments include five hardware replacements in the system's lifetime, most recently in 2016. From the beginning, VLETS has employed high-availability technology to provide a near 100 percent uptime, including a hot-standby system that is a mirror image of the production system. Failover to the standby system is automated and usually takes less than five minutes to occur. The latest hardware upgrade continues the high-availability tradition, along with increased processing and data storage capacity. There have been numerous upgrades to software and new applications added over the years. Many software changes are the result of enhancements and new services provided by the FBI's National Crime Information Center and the National Law Enforcement Telecommunications System.